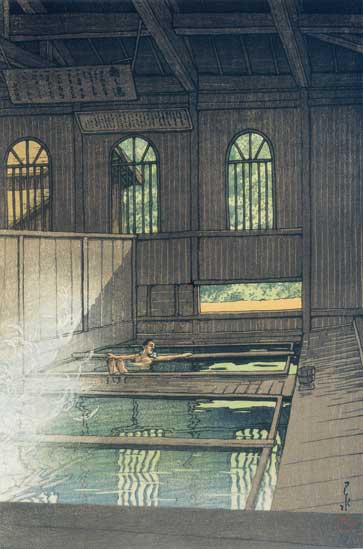 Jeremy Edwards
got us started off right yesterday with his very naughty postcards, but I've got an amazing line-up of wonderful writers who are going to give up a peep into some
hot
-el action over the next two weeks. Thank you, everyone, for stopping by suite 69!
Ah, I see the sushi platter I ordered has arrived, so please help yourselves--it goes great with champagne--while I sift through some old postcards of my own to celebrate the publication of
Do Not Disturb: Hotel Sex Stories
, edited by
Rachel Kramer Bussel
.
For my money, the traditional Japanese inn provides the ultimate hotel experience. More than a place to spend the night, it offers a complete escape from the restraints of everyday life, inviting sensual indulgence of every kind. The moment you arrive, you shed your clothes for a soft cotton robe that allows for free and easy movement. The first order of enjoyment is always a nice long soak in the inn's large bath, followed by a feast of a dinner, more bathing and then, depending on your company, a feast of another sort on the thick, soft futons.
I've stayed in many delightful inns throughout Japan, but one particular place stands above the rest. The beautiful
Chojukan
at Hoshi Onsen has hosted famous writers, including Nobel Prize Winner Kawabata Yasunari, whose photograph takes a place of honor in the lobby. I'm sure the management is not aware they've hosted another far humbler writer who draws apparently constant inspiration from their mountain hostel. For indeed the beautiful nineteenth century bath at Chojukan inspired at least five erotic stories: "
Hot Spring
," my Pushcart Special Mention story; "Spring Pictures" in the
Mammoth Book of Best New Erotica 4
, "Wet" in
Best Women's Erotica 2008
, a Playboy Cyberclub story that I've sold all rights to forever throughout the universe, and the scene in
Amorous Woman
where Lydia has an enlightening encounter with an anthropology professor in the very same steamy water.
Here's how I describe the setting in my novel:
The soaring cross-beamed ceiling, glowing pedestal lanterns, and swimming pool-sized cedar tub brought to mind the cathedral of a cult that worshipped both purity and indulgence.
Perhaps one day, Chojukan will post these words in their lobby, but until then here's a purely indulgent snippet from "Wet." In this scene, the American narrator, a fan of Japanese-style ablutions and fantasies involving the same, tricks her Japanese boyfriend into an impromptu lesson after midnight by the glowing lamplight of Chojukan's grand co-ed bath.
From "Wet" (read the entire story at
The Erotic Woman
):
I think that's when he finally got it, because in two long strides he was at my side, grabbing my arm and hauling me back to the faucet. With a downward tug, he forced me to my knees. He quickly filled the wooden basin with steaming water and splashed it over my chest and shoulders. I cried out softly. Kneeling behind me, he wrapped his arms around me, but it was more a punishment than an embrace.
I don't think I'd ever been so turned on in my life.
"I will wash you now," he whispered.
"Yes. Teach me how. I'm dirty," I confessed in a low voice. "My breasts, they're very dirty. Maybe you have to scrub hard."
"Is that so?" There was no doubt now he'd caught on to the game. "Why are they so dirty?"
"I let a man kiss them and suck them."
"Yes, then I think you are very dirty." He took the bar of soap and began to rub the flat side over my nipples. Pin-pricks of pleasure shot straight to my pussy. A beguiling combination of smooth and hard, it was even better than my fantasy.
"What about between your legs?" he murmured.
"Yes. It's very dirty. I let a man…take me…from behind."
"That is dirty. Like an animal. I must clean you there very well." He picked up the washcloth, draped it over his fingers and pressed it between my pussy lips. His movements were subtle--firm, slow circles over my clit--but the flesh there was already swollen and sore from the earlier fucking. I had to grit my teeth to bear it, but I also found myself pushing into his hand with small rocking motions to intensify the sensation.
"Spread your legs a little. Now we will rinse." He took a basin of steaming water and splashed it vigorously over my slit. It streamed down my thighs, mingling with my juices. My cunt was on fire, my skin a throbbing scarlet hue. When I imagined how it would go, I was hoping this part would last an hour, but now I wanted him inside me so badly I was shaking.
(It goes on from there, but sometimes not getting exactly what you want can be...exactly what you want!)


Tomorrow--a sneak preview of Craig Sorensen's novel....