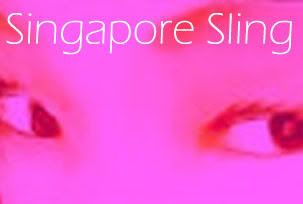 I wanted to announce—with a big huge happy smile--two new reviews of
Amorous Woman
. The first appeared on
Cocktail Reviews
, a long and luscious (and perceptive) reading by
Singapore Sling
who awarded me a whole bottle of Moet et Chandon. Which I promptly drank right up! Singapore Slings are actually my favorite mixed drink, probably because I remember my older sister talking about drinking a few at El Tio Pepe in Washington D.C. her freshman year of college. When the waiter realized she was underage, he gave her free coffee. I like to pretend I'm at the Raffles Hotel, where the potion was invented, when I drink my lovely pink drink. Now I'll always think of this wonderful review!
The other review, brief but eloquent, is a total thrill for me.
Erotica Revealed
reviewer Kathleen Bradean mentioned my book on
her blog
yesterday.
All I can say is--Wow.
Lydia is still on the loose, and given her loose behavior, I'm afraid she's going to throw herself at some married man. But fortunately, two very insightful reviewers were able to read her story before she escaped--so I'll console myself with some more champagne. Your loss, Lydia, I would have shared!